For immediate release ‐ March 08, 2017
Contact: Jon Pishney, 919.707.8083. Images available upon request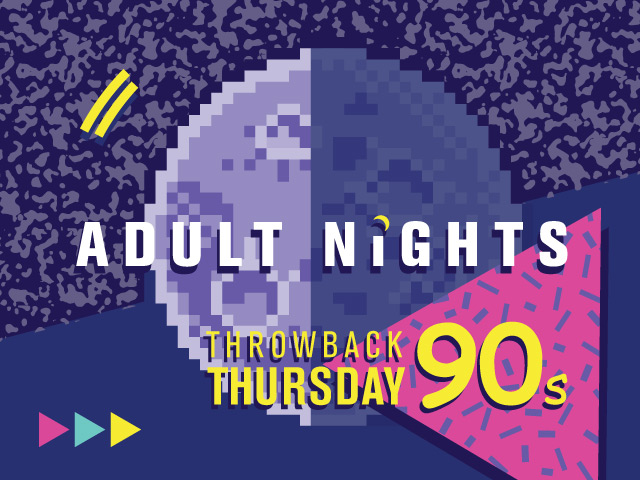 RALEIGH, N.C. — It's time to dust off your pagers and Doc Martens — the '90s are back! Explore the trends, fads and scientific discoveries of the '90s when the North Carolina Museum of Natural Sciences presents "Adult Night: Throwback Thursday" on March 23, 7-10 p.m. Neon track suits and Tamagotchis welcome.
Twenty-one and overs are invited to dance to the music of DJ Al-Ski Love of SPIN in the 3-story SECU Daily Planet Theater. Play in the Retro Game Room, featuring classic arcade games and gaming systems, such as Nintendo 64 and Sega Genesis, plus Magic Eye 3D stereograms, board games, corn hole and more. Reunite with your childhood toys in the "Toy Box." Jam like Jordan on a Slam Dunk inflatable basketball court. Or race to see who can collect the most "Heart of the Ocean" gems before falling victim to the icy waters.
Of course it is the Museum of Natural Sciences, so you can also meet some feisty sheilas like a live American alligator and a dwarf caiman, while learning all about the animals that make us yell "crikey."
Or watch "Bob Nye," the Museum's own science guy, conduct cool experiments and then step inside a Museum lab to conduct your own.
Tickets: $15, $10 for Members. Beer, wine, cocktails and food will be available for purchase. You may purchase tickets online at naturalsciences.org/adultnights or on-site at the Museum Box Office. You must be 21 years or older to attend. A photo ID is required for entry. This event is sponsored by Citrix, White Street Brewing Co., Boxcar Bar + Arcade and Atlantic Brew Supply.
---
The North Carolina Museum of Natural Sciences (11 and 121 W. Jones St.) in downtown Raleigh is an active research institution that engages visitors of every age and stage of learning in the wonders of science and the natural world, drawing them into the intriguing fields of study that are critical to the future of North Carolina. Hours: Mon.– Sat., 9 a.m. –5 p.m., and Sun., noon–5 p.m. Visit the Museum online at www.naturalsciences.org. Emlyn Koster, PhD, Museum Director.