Now Showing in the WRAL 3D Theater
Tickets: $5 Adults; $4 Seniors, Students, & Military; $3 Children (3-12); $2 Members.
All of our films are about thirty minutes in length, and appropriate for most ages.
Monday–Saturday
10:00 am

Dinosaurs Alive! 3D

11:00 am

Museum Alive 3D

noon

Tiny Giants 3D

2:00 pm

Dinosaurs Alive! 3D

3:00 pm

Museum Alive 3D

4:00 pm

Tiny Giants 3D
Sunday
1:00 pm

Museum Alive 3D

2:00 pm

Dinosaurs Alive 3D

3:00 pm

Museum Alive 3D

4:00 pm

Tiny Giants 3D
Special 3D Movie Showings
1:00 pm — This weekday timeslot (Monday–Friday) is available by special request only. Any movies on this page are available. 25 ticket minimum. Arrangements must be made two weeks in advance by calling the Museum Box Office at 919.707.9950.
---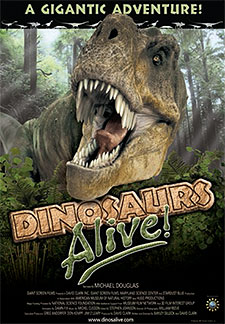 Dinosaurs Alive! 3D
See the earliest creatures of the Triassic Period to the monsters of the Cretaceous in a 'life-sized' 3D presentation. Realistic and scientifically-accurate computer generated animation brings dinosaurs back to life!
---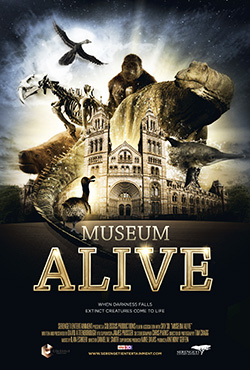 Museum Alive 3D
In this stunning new project David Attenborough takes us on a journey through the world-famous Natural History Museum in London, revealing it as it's never been seen before, in a compelling tale of discovery, adventure and magic. As the doors are locked and night falls, Attenborough meets the extinct creatures that fascinate him the most, as they magically come alive in front of his eyes; dinosaurs, ice age beasts and giant reptiles. This is a special collaboration of experts and curators from the Natural History Museum with 3D and ground-breaking CGI technology. 40 minutes.
---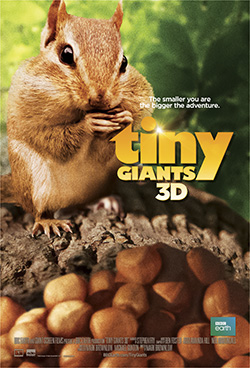 Tiny Giants 3D
A chipmunk in a wild wood and a grasshopper mouse in Arizona's scorched deserts are both forced to grow up fast when they find themselves alone for the first time. Only by using their ingenious superpowers can our heroes not only stay alive, but also become masters of their universe. Using the incredibly immersive power of specialist 3D cameras, audiences are transported in a very intimate way into another world to experience the titanic battles these creatures face to survive.
---
---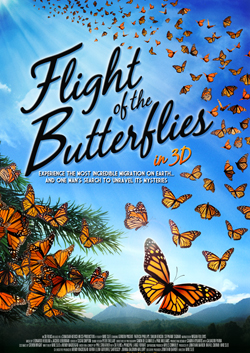 Flight of the Butterflies 3D
"Flight of the Butterflies in 3D" immerses you in an astounding migration experience. Over spring and summer, two generations of monarch butterflies migrate north into Canada. In the fall, a Super Generation miraculously finds its way from Canada, across the U.S., to overwintering sanctuaries on a few isolated mountaintops in Mexico.
Shown by special request only.
Flight of the Butterflies 3D: website & trailer
---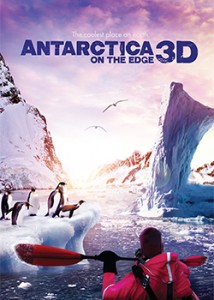 Antarctica: On the Edge 3D
Antarctica lives in our dreams as the most remote, most forbidding continent on Earth. Yet it is also a fragile place, home to an incredible variety of marine life along its edges — several species of penguins; tens of thousands of seals, humpback, Minke and killer whales; and dozens of different seabirds including giant, soaring albatrosses.
In "Antarctica: On the Edge," you will travel to the southernmost continent by sailboat and then along the 900-mile-long Peninsula by sea kayak, foot, small plane and dive gear. You will see this one-of-a-kind place and gain a unique perspective on our planet's most remote land of sea and ice, and the incredible wildlife that call it home.
Shown by special request only.
Antarctica: On the Edge 3D: Website
---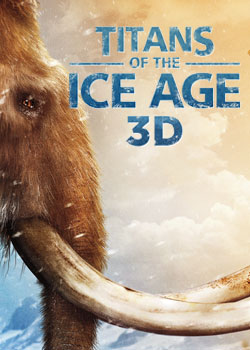 Titans of the Ice Age 3D
"Titans of the Ice Age" transports viewers to the ancient icy landscapes of North America, Europe, and Asia, investigating the causes and results of the ice age as we attempt to understand the Earth's past and better prepare for its future.
Shown by special request only.
---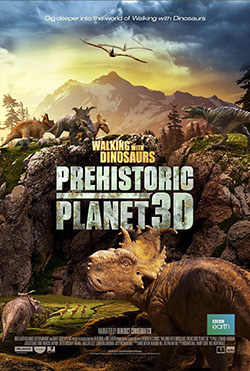 Prehistoric Planet 3D
PG: Parental Guidance suggested for children 5 and under
On a thrilling ride, we spin back in time to an extraordinary prehistoric world: Alaska in the Cretaceous Period, 70 million years ago – the last great flourish of the dinosaur era. BBC Earth invites you to come on a journey through the seasons, and experience a year in the life of dinosaurs fighting, feeding, migrating, playing and hunting.
With the most ambitious CGI visuals, this film reveals the story behind the lives of the dinosaurs and the challenges they faced in a constant battle of survival.
Shown by special request only.
---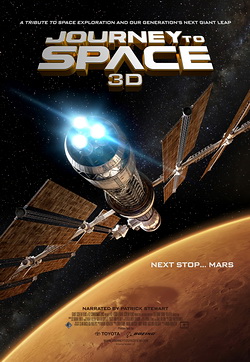 Journey to Space 3D
In the past half century, humans have punched through the stratosphere, walked on the moon, and lived continuously in orbit. In the coming decades, our unquenchable curiosity will take our species beyond the cradle of Earth to touch the face of another world. Strap in for the next giant leap. Next stop … Mars! Narrated by Patrick Stewart
Shown by special request only.
---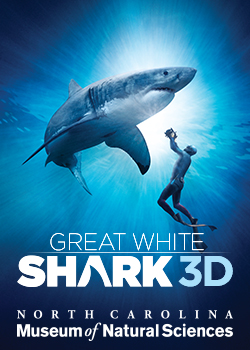 Great White Shark 3D
"Great White Shark 3D" unravels the mystery of the creature we love to fear—the much maligned, misrepresented and misunderstood great white shark — and goes to the depths of human daring to tell the true story of its role atop the oceanic food chain.
Three years in the making, "Great White Shark 3D" takes viewers around the world to great white hotspots in Mexico, New Zealand, South Africa, and California. The film examines what we know about these incredible animals through the eyes of several people whose lives and work have become inextricably linked to the great white.
Shown by special request only.
---
The Last Reef 3D
Exotic coral reefs, vibrant sea walls in the sub-arctic pulsating with anemones and crustaceans: these biodiversity hot spots are as vital to our lives as the rainforests. Groundbreaking macro 3D cinematography explores these cities beneath the sea.
Shown by special request only.
---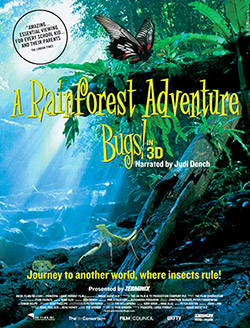 Bugs 3D
Bugs! is a live-action nature drama filmed in awe inspiring, totally immersive 3D. Shot on location in Borneo and in a purpose-built studio in Oxford, England, Bugs! explores the dramatic and savage lives of an Old World praying mantis and a beautiful butterfly. This 25-minute feature combines incredible footage with cutting-edge technology to deliver a fantastically entertaining and enlightening experience about the little guys in life. Narrated by Dame Judy Dench.
Shown by special request only.
---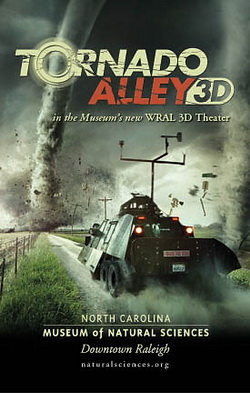 Tornado Alley 3D
Traversing the "severe weather capital of the world," Tornado Alley documents two unprecedented missions seeking to encounter one of Earth's most awe-inspiring events—the birth of a tornado.  Filmmaker Sean Casey's personal quest to capture the birth of a tornado with a 70mm camera takes viewers on a breathtaking journey into the heart of the storm.
Shown by special request only.