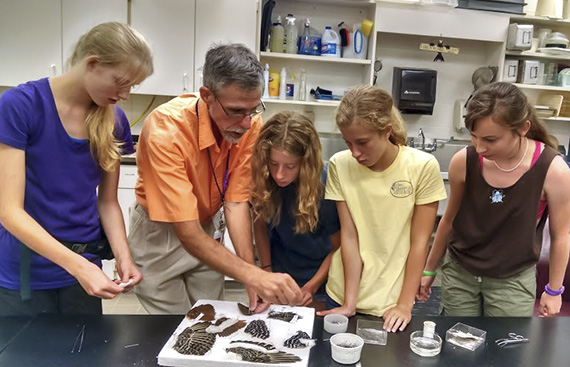 Calling all teens! Join John Gerwin, Research Curator of Ornithology at the Museum, and members of the Young Naturalists Club as they describe their adventures in field research trapping, tagging and tracking birds from the Southern Appalachian Mountains to the mountains of Nicaragua. Teen Science Café is an informal, interactive program that promotes exploration, creativity & lifelong learning. Light snacks provided. No registration required.
Can't make it in person? Watch it on Facebook live by going to facebook.com/teensciencecafewhiteville at 5pm on Friday, September 15.
The bird theme will continue Saturday, September 16, with several programs and activities throughout the day.
About our speaker
John Gerwin has worked as a research scientist in ornithology since 1988. He has projects near Mt. Mitchell, in the Uwharrie National Forest, as well as in Wake County and the southeastern Coastal Plain. His studies include birds in different landscapes, from urban settings and national forests to industrially managed timberlands. He has done research in nine Spanish speaking countries and is fluent in Spanish.