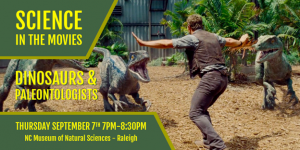 Why is Hollywood so captivated by dinosaurs? How accurately are paleontologists portrayed on the silver screen? And, most importantly, what is the "lysine contingency"? Learn everything you ever wanted to know about Hollywood's take on dinos (cinemasaurs?) from a panel of paleontologists and film scholars at "Science in the Movies: Dinosaurs and Paleontologists."
Join us to see clips of your favorite dinosaur films and have all your questions answered by our panel of experts. This event is free and open to the public (all ages), and we'll even provide the popcorn!
This event is jointly sponsored by the Science Communicators of North Carolina (SCONC), the Duke Initiative for Science & Society, and the NC Museum of Natural Sciences.