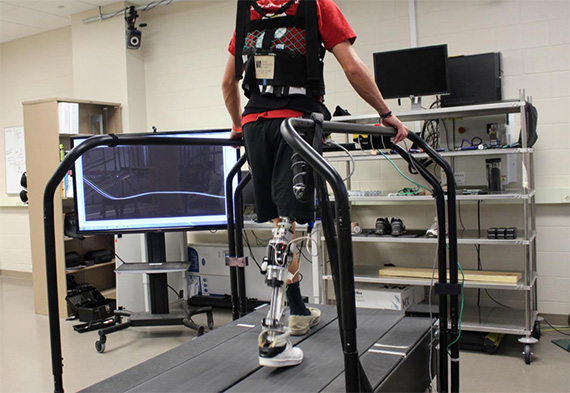 Bionic humans (i.e. part human, part machine) often appear in science fiction movies and literature. We fantasize about integrating machines with humans to replace, assist or reconnect missing or impaired body parts. With recent breakthroughs in bionic technology, researchers have developed bionic limbs that assist amputees with basic activities of daily living. But can they control these devices just like their biological limb? How do we make true integration of humans and machines found in science fiction a reality? In this Café, Helen Huang and members of her team will discuss the current state-of-the-art bionic technologies for lower limb amputees and highlight their approach to making the bionic amputee a reality.
About our speakers
Dr. He (Helen) Huang is an Associate Professor in the UNC/NCSU Joint Department of Biomedical Engineering, Director of the NCSU/UNC Rehabilitation Engineering Core (REC), and Director of the Neuromuscular Rehabilitation Engineering Laboratory (NREL). Stephanie Huang is a post-doctoral research fellow in the NREL who works on neural control of robotic ankle prostheses. Andrea Brandt is a Ph.D. student in the NREL who studies the interaction between amputees and robotic knee prostheses while performing different tasks. Their long term research goal is to improve the self-efficacy and quality of life for people living with limb loss.
---
Can't make it to the Café in person? Watch this, or any of our other Science Cafés on our Livestream account! (The current Science Café will appear automatically at event time.)
Note: Click on the Event Posts button

to select and view our previous Cafés.