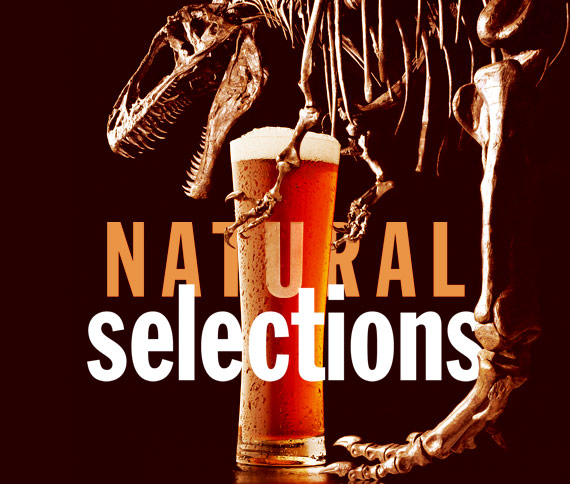 Join North Carolina brewers at the NC Museum of Natural Sciences for our fourth annual Natural Selections event on Friday, August 18.
Enjoy this one-of-a-kind evening of beer and science among the Museum's dioramas. Sample unique creations fitting the Museum's natural science focus from more than 20 North Carolina breweries. Enjoy hands-on science of beer activities, a panel discussion, games and live music. Vote for your favorite beer during the event and award the second annual Natural Selections People's Choice Award to one lucky brewery.
Photos from Natural Selections 2016
New for 2017: Sample unique creations and food pairings only available in our exclusive VIP Lounge under the whales in the Coastal Hall. Engage with local brewing experts and take home cool swag. Space is limited. VIP Ticket price includes general admission to Natural Selections plus VIP lounge experience.
Tickets: $65 VIP; $40; $25 for Friends of the Museum members. Price includes beer samples, activities, tasting guide, and collectible Natural Selections tasting glass. You must be 21 years of older to attend. A photo ID is required for entry.
Buy your tickets early and save! Space is limited. This event sells out every year.
Happy Hour: $30 General Admission, $55 VIP (through July 28).
Last Call: $35 General Admission, $60 VIP (July 29–August 17).
$40 General Admission, $65 VIP (day of event, while supplies last).
Members: $25, $50 VIP (no matter when you buy). Not a member yet? Join today!
All proceeds benefit the Friends of the NC Museum of Natural Sciences. Proceeds from Friends' activities — including gift shop sales, memberships and events — all support Museum programs, research and exhibits.
Check back for brewery and event updates.
---
Brewer Sponsors
Big Boss Brewery
Bombshell Beer Co.
Bond Brothers Beer Co.
Brüeprint Brewing Co.
Carolina Brewing Co.
Compass Rose Brewery
Double Barley Brewing Co.
Fortnight Brewing Co.
Mother Earth Brewing
NC State Sheppard Brewing Lab
Oak and Dagger Public House
Ponysaurus Brewing
Raleigh Brewing Co.
White Street Brewing Co.
Supporting Brewer Sponsors
Aviator Brewing Co.
Bold Rock Hard Cider
Deep River Brewing Co.
Fullsteam Brewery
Nickelpoint Brewing Co.
Southern Pines Brewing
VIP Lounge Sponsors
Haw River Farmhouse Ales
Hi-Wire Brewing
Lynnwood Brewing Concern
Rocky Top Catering
Trophy Brewing Co.
Event Partners
Craft Beer Collective
NC Beer Guys
NC State: The Meitzen Lab
Featuring
Montford Misfits
The Oak City Collection
Uncle Dave's Kettle Korn