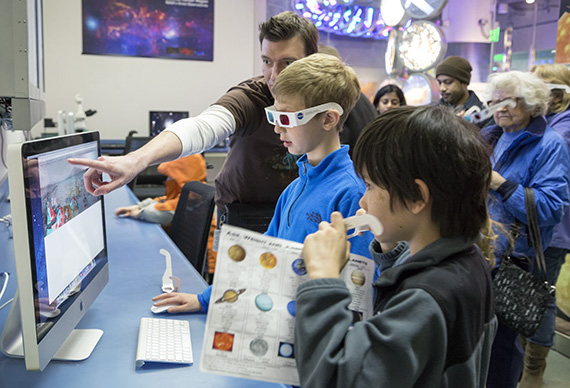 Join Head of the Astronomy & Astrophysics Research Lab, Rachel Smith, and Assistant Head, Patrick Treuthardt, on a special behind-the-scenes tour. Learn about their exciting research projects on star and planet formation, and the physics of galaxies. You'll also "fly through the solar system" via new, interactive visualization software now running on several large screens inside the lab, and hear about some of the latest NASA mission discoveries.
Each session is limited to 12 members and will last about 30 minutes. There will be about 15 minutes of transition time between sessions.
Weather permitting, solar observing will be available to Friday tour groups from 11:30am-12:30pm, and to Saturday tour groups from 1:00pm-3:00pm, on the fourth floor terrace.
All ages are welcome. No strollers allowed.
Registration Information
Member registration begins at noon on Monday, March 6.
Tour Group FULL
Join or Renew Your Membership today!
Space is very limited. If your plans change and you are no longer able to attend, please call Catherine Starek at 919.707.9296.
Astronomy Tour Dates
Friday, April 28
Tour Group 1: 10:30am – 11:00am
Tour Group 2: 11:15am – 11:45am
Saturday, April 29
Tour Group 1: 1:00pm – 1:30pm
Tour Group 2: 1:45pm – 2:15pm
Tour Group 3: 2:30pm – 3:00pm