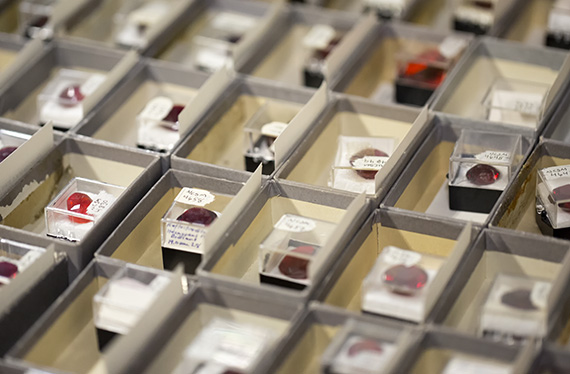 The Multi-Faceted Nature of Rocks and Minerals
Geology and Petrology Research Lab and Collections
Get an exclusive behind-the-scenes look at the Geology and Petrology Research Lab and Collections with Curator Chris Tacker. Enjoy special access to normally restricted areas of the Museum and learn about the latest research and data collection being conducted. See the specialized tools used by our researchers, such as the cold-seal hydrothermal experimental equipment and a Fourier Transform Infrared microscope. Get a close-up look at our extensive geology collections, which predate the Museum, including gemstones, minerals, and ore samples of the state of North Carolina. Hear about the fascinating history and geochemical make-up of some of the Curator's favorite specimens.
Geology Tour Sessions
Check-in will start no earlier than 30 minutes prior to your registered tour time at the Information Desk inside the 11 West Jones Street entrance to the Museum.
Each session is limited to 12 members and will last about 90 minutes. Please allow for 5-10 minutes of transition time between sessions. For your safety, guests must be at least 6 years of age to participate. Children (ages 6-17) must also be accompanied by a parent or guardian. No strollers allowed.
Please note the following safety precautions:
No food or drink allowed.
Closed-toed shoes required.
While photography and sharing on social media (#MuseumBTS) are encouraged, the Curator will provide guidance on which samples may be touched.
During the tour, guests will be guided down a flight of stairs. Let Membership Coordinator Catherine Starek know in advance if the use of an elevator will be needed.