Prepare to get shrunk at the last Final Friday of 2016 — Nano Night! We'll be watching the '60s classic Fantastic Voyage, about a submarine crew tasked with curing a scientist of a blood clot from inside his body.
Joining us this month is Dr. Kristy Ainslie, Associate Professor in the UNC Eshelman School of Pharmacy. Dr. Ainslie will help us sort the fact from the fiction in Fantastic Voyage, and will fill us in on how tiny tools are being used by doctors to treat disease.
*Plus, don't miss pre-show science stations, food, drinks, and live music  from the band Loos Change from 5:30pm–7pm!
Learn more about Final Fridays programming!
---
This Month's Film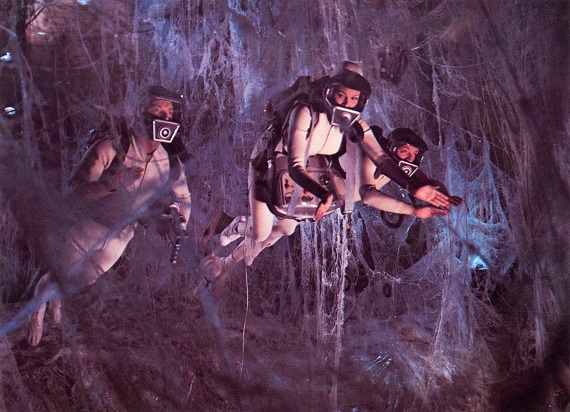 Fantastic Voyage (1966) – You may not have seen Fantastic Voyage but we bet you've seen one of its innumerable animated parodies. Television shows from The Magic School Bus and Rugrats to The Simpsons and Futurama have been inspired by the unique plotline and not-so-special effects  in the film to make it one of the most parodied movies of all time. In the film, a Cold War-era submarine crew (featuring Raquel Welch and Donald Pleasence) must save scientist Jan Benes (Jean Del Val) from a blood clot by getting miniaturized — submarine and all — and blasting away the clot from inside the professor's body.
Will the professor be saved? Will the crew make it out alive? Is it a good idea to wrestle a white blood cell? Find out at Nano Night!
Fantastic Voyage is rated PG
---
Speaking of microscopic life forms, have you seen The Secret World Inside You, our latest featured exhibition? Crawling on your skin, swimming in your gut, and traveling through your intestines are over 100 trillion teeny, tiny microorganisms. Collectively they are known as your microbiome, and they help keep you healthy. Ticket holders to Nano Night will each receive a Buy One, Get One Free coupon to the exhibition – bring a friend, and meet your microbes!
---
Science Stations (5:30pm-7pm)
Nanoscale Forms of Carbon and Their Biomedical Uses
North Carolina State University
Visitors will have the chance to feel a nanodiamond surface and see the surface under a microscope while learning about nanoscale forms of carbon and their potential medical uses.
If DNA Were Like a Strand of Hair
North Carolina State University, Osher Lifelong Learning Program
How much DNA is in each of your cells? How does it fit into the cell nucleus without getting tangled? How large are genes and how many are there? This display uses an analogy to a human hair to answer these questions (and many more) in an clear and entertaining way.
"Micro-Eyes" Magic
NC Museum of Natural Sciences Discovery Room
Under the microscope, simple textures become kaleidoscopes of different structures and flat surfaces are pocked with ridges and valleys. See some microscope magic for yourself at this table, where visitors will have the chance to use a "Micro-Eyes" projector microscope and explore the surprising details of the nano world.
Waterproofing Leaves and Jeans
NC Museum of Natural Sciences Micro World iLab
How does a lotus leaf stay dry? Find out at the Micro World table, where visitors will learn how nano-scale hairs and other structures keep some plants dry. Plus, explore how researchers are drawing inspiration from these waterproof plants to make water and stain-resistant fabrics. Visitors will have the opportunity to test out some of these fabrics themselves!
---
Food
Turkey Sliders
Served with pepper-jack cheese, avocado creme and fried jalapeños
Beef Sliders
Served with bacon jam, blue cheese and caramelized onions
Vegetarian Option
Avocado and quinoa salad