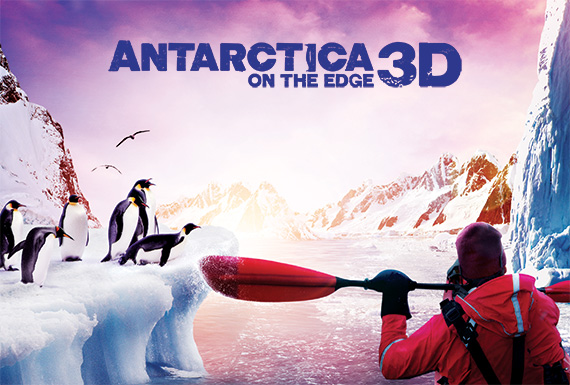 Join us on Thursday, February 25, for the red carpet premiere of Antarctica 3D: On the Edge.
Learn how the seventh continent is changing — and in some parts changing very fast — in part due to a warming ocean. Dr. Steve Emslie of UNC-Wilmington will present Life on the Ice: Penguins Past and Present at 6:30pm in the WRAL 3D Theater. Emslie will share 25 years of his experiences and observations while working in Antarctica. Learn about his research on penguins and other seabirds, what he's learned about life "on the ice" and the changes he's observed firsthand due to a warming climate.
Then enjoy the premiere of Antarctica 3D: On the Edge, featuring 20 minutes of additional footage. Enjoy beverages and freshly-popped popcorn before the show.
Doors open at 5:30pm. Learn about Antarctic wildlife and how the animals protect themselves from the cold featuring specimens from our teaching collections. Lecture begins at 6:30pm. Film screening begins at 7:30pm with Q&A to follow.
Tickets: $5; free for members. Members must sign in to their account to receive the discount. Space is limited.
PROGRAM FULL
About the speaker
Dr. Steve Emslie has been a professor in Biology and Marine Biology and at UNC-Wilmington since 1998. He has an interdisciplinary background in archaeology, ornithology, and paleontology and studies fossil and living birds and paleoecology. Emslie has spent 17 seasons on the ice since 1991 and will return just before this lecture. Check out his blog from this season's research trip. He is an author or co-author on over 100 scientific publications, as well as a variety of popular articles. His research in Antarctica is funded by the National Science Foundation.
About the film
Join National Geographic explorer Jon Bowermaster as he and his team travel along the continent's frozen coastline in Antarctica 3D: On The Edge. The adventurers explore by sea kayak, ice-worthy sailboat and on foot to gain an up-close look. Meet scientists and the wildlife they study at close range, and learn about the history of exploration and the continent's future. Trailer