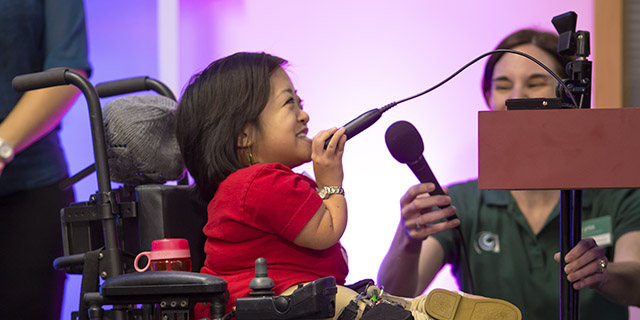 The NC Museum of Natural Sciences strives to be welcoming and accessible to all audiences and works to remove barriers that may prevent individuals from fully engaging in any of its enriching services.
The Museum is dedicated to welcoming all members of the community as visitors, volunteers, docents, interns, employees, and donors, and to lead the way in being a fully accessible and inclusive place. In 2013 the Museum created and implemented a first-of-a-kind conference for students with disabilities interested in pursuing careers in science, technology, engineering or math (STEM), in collaboration with SAS Institute Inc. This annual event has already been replicated by several other science centers across the country. Bimonthly guided tactile tours of the Museum provide visitors an opportunity to experience the Museum more fully than might be the case without these tours. Additionally, the Museum offers a fully accessible app to increase independent navigation and a pre-visit planning experience for visitors benefiting from these accommodations for their visit.
Through these efforts, the Museum received recognition from the City of Raleigh Mayor's Committee for Persons with Disabilities with the Ken Franklin Citizen Involvement Award in 2014. Embracing inclusion as a core value, the Museum makes every effort to ensure that every interaction with us is a rewarding experience.